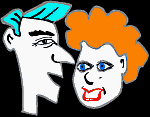 Chat! v2.0
Chienworks* Chat! is a clean, friendly, family oriented chatroom. We do expect that you will be polite and courteous to others while in here. Please refrain from rude and offensive behavior.

Rather than list an extensive set of rules, we will simply note that swearing, lewd or sexually explicit conversation, arguments, obscenities, insults, hate, prejudice, or anything that is offensive to the rest of the chatters has no place here. We do log all conversations and can take action against chatters if necessary.

Chat handles are to be used only by the person who registers them. If there is any suspicion that someone else other than the registrant is using the handle, the handle will be disabled until the registrant requests a new password from the administrators.

The decisions of the Hosts (moderators) who monitor the chatroom are considered final. Please respect them as they strive to keep this a pleasant place to chat. If you have any problems or questions, please contact us . Thank you.